History
The earliest rock carvings 4,000 years ago included labyrinths. They have been found in art work, pottery, coins, and drawings around the world: India, East Afghanistan, early Rome, Ukraine, Iceland, Crete, Egypt, Sumatra, and even in Arizona.
In Greek mythology, the labyrinth was a maze in which a half man/half bull was held until killed by Theseus. Therefore, many understand the words "maze" and "labyrinth" as synonyms. However, current classifications of mazes typically refer to complex structures with multiple choices of path and direction, whereas labyrinths are defined as containing a single, non-branching path that leads to the center.
The two most common types of labyrinths are classical, which is made of 7 circuits, and medieval, which has a four-fold pattern and is typically composed of 11 circuits. The classical labyrinth is found on Cretan coins as early as 430 BC, and was often associated with the Labyrinth myth, though the classical model was not limited to that geographic area.
The first labyrinth used in a Christian context dates back to 324 AD in the Basilica of St. Reparatus in Algeria. While many other labyrinths featured an image of Theseus and the Minotaur in the center, this one contained the words "Sancta Ecclesia" (Holy Church), thereby reminding Christians where their focus should be set.
Medieval labyrinths were first seen in the 9th and 10th centuries. In the 11th and 12th centuries they were used in manuscripts and on the walls and floors of churches in Italy. They were soon brought to southern and western Europe. The medieval labyrinth began to adopt a Christian symbolism and is typified in the Chartres Cathedral labyrinth. This stone-laid labyrinth was built in the floor of the church around 1200.
This transition from secular to sacred may have been incidental as culture found its way into the church2 or an intentional choice by the church to use the mythological symbol as allegory3. Either way, use of labyrinths took on a distinctly Christian flavor in the Middle Ages. Medieval texts recount an Easter celebration in which a priest would walk the labyrinth and upon reaching the center, throw a yellow woolen ball back and forth to parishioners along the labyrinth's circumference, as they danced and chanted "Praises to the Easter Victim." This evoked the myth in which Thesesus wandered the Labyrinth, guided by Ariadne's string, but was used as a metaphor
for Christ's work of redemption. Christ (Theseus) lived in a sinful world (the Labyrinth and its dangers), defeated Satan (the Minotaur), triumphed over death, and offers His salvation (golden string) to all who are ready to receive it.
Labyrinth use in the Middle Ages took on a number of other Christian interpretations. Some viewed it as a representation of the Christian life, full of many turns, but leading towards redemption. Others used it as a substitute for pilgrimages to Jerusalem. Still others purportedly traveled the path of the labyrinth on their knees, reciting prayers written on the floor. (These last two practices date closer to the Renaissance).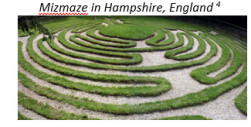 Turf labyrinths became very popular in England between the late Middle Ages through the 19th century. Many were found on village greens or commons, often near churches, but others were located on hilltops. There are 8 surviving historic turf labyrinths in England from this time period. Around the same time, hedge mazes gained popularity across Europe.
Around the 17th and 18th centuries, church officials of the French Gothic cathedrals destroyed a number of the ecclesiastical labyrinths, noting that they had become a diversion rather than a sacred experience. The labyrinths at Chartres, Saint-Quentin, Saint-Omer, and Gand were the only French labyrinths to survive this purge.
Through their history, labyrinths have been used for a variety of purposes. They were not originally a Christian invention, and have therefore been used in a variety of pagan rituals: trapping evil spirits5, protection from bad circumstances and insurance of good luck6, fertility rites, and goddess worship7. As noted above, they were also used for amusement. Some non-religious applications included: a test of skill for riders on horseback, a children's game8, a place in which suitors could chase their potential bride9, a dancing ground10, use during fairs and holidays11, and as a garden feature12.
Today, interest in and construction of labyrinths has resurfaced. As in the past, some use it as a sacred tool (whether Christian or otherwise), and others as an amusement.
1 Source: W.H. Matthews, Mazes and Labyrinths, (Detroit, Singing Tree Press, 1969). Accessed from www.sacred-texts.com.
2 Saward, www.labyrinthos.net/irelandlabs
3 Fresson, www.cathedrale-chartres.org
4 By Jim Champion (Own work) [GFDL (www.gnu.org/copyleft/fdl.html), CC-BY-SA-3.0 (creativecommons.org/licenses/by-sa/3.0/) or CC BY-SA 2.5-2.0-1.0], via Wikimedia Commons
5www.labyrinthos.net/labyrinthstory
6www.labyrinthos.net/magiclabyrinth
7www.catholicculture.org
8www.labyrinthos.net/firstlabs
9www.labyrinthos.net/labyrinthstory
10www.labyrinthbuilders.co.uk/about_labyrinths/history.html
11www.wikipedia.org/wiki/Turf_maze
12www.labyrinthos.net/turflabuk