Lexington In-person Worship Service 9:15am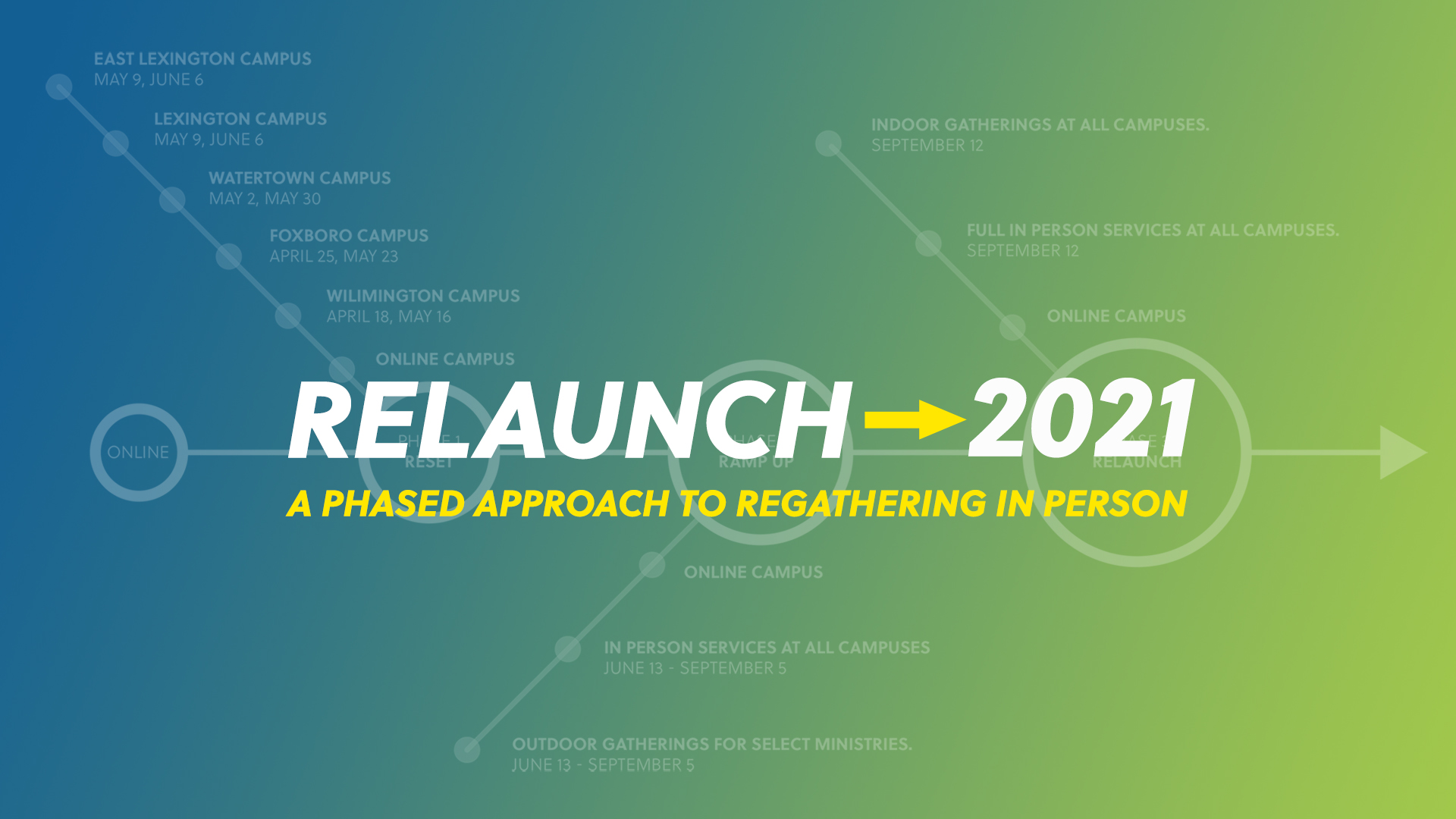 We are excited to announce we will be gathering in person for our Sunday worship on May 9.
The worship music on May 9 and June 6 will be blended style services featuring both Classic and Contemporary styles during our "Reset" phase. Hosting blended services at the beginning gives us a chance to learn safety processes together, allows us to limit the number of volunteers needed in the buildings, and gives our new worship leaders a chance to get to know us together. Starting June 13, as we enter the "Ramp Up" phase we will begin hosting a classic service at 9:15am and a contemporary service at 11:00am.
We're doing our best to offer a safe worship experience at all of our campuses. Each facility gets a thorough cleaning between services and events, and we're offering seating space that provides for family/group social distancing of at least 6 feet. We've upgraded to HEPA air filtration systems and touchless restroom facilities at all campuses, and are providing hand sanitizer stations throughout all of our buildings.
Please take note of the following guidelines before you attend one of our services:
Masks required for all participants
Pre-registration for contact tracing required
If you or anyone in your party has any symptoms associated with COVID-19, please join us online instead
If you or anyone in your party has had prolonged exposure to anyone who's tested positive for COVID-19, please join us online instead
Please follow traffic patterns indicated at each location to help us reduce cross-exposure between parties
Please arrive 15 minutes before the service in order for us to be able to seat everyone.
During the musical portions of the service, we're asking people to reflect silently or sing softly.
We're doing our best to offer a touchless experience. You can give online or place offering in Giving Boxes provided as you exit the service. And if you're new, fill out our online connection card HERE!
As much as we all love hugs and handshakes, this is a time for waves and virtual high-fives. Thanks for understanding.
NOTE: We will not be offering any Kidstown or Student Ministry at this time, children and students are welcome in the sanctuary.
In-Person Service Lexington Campus FAQ
What to expect: Park your car, confirm registration outside at a registration table, then go inside to sign-in, ushered to your seats (social distance from other parties), 65 minute Service – prayer, responsive reading, music with singing (masks on the entire time), a message and a benediction.
Where to Park (starting 30-45 minutes prior to each service): Starting at 5 Militia Dr, then 3 Militia Dr, then 1 Militia Dr (reverse order for 11:00am). Handicap parking available at 59 Worthen Rd; please let the parking attendant know when you arrive.
Registration: Check-in at the registration table located at the North Entrance of 59 Worthen Rd Building. Confirm you are registered and please answer the 3 questions: Have you been exposed to COVID, asked to quarantine in the last 14 days or experienced COVID symptoms? Head inside to the Sign-in station, you will need to confirm your parties name(s) and a primary contact with phone and email. The sign-in team will give you a few guidelines for the morning then move to the Sanctuary following the arrows on the floor and wait for an usher to escort you and your group to your seats.
COVID Guidelines: Please do not come if you have COVID-19 symptoms or have been exposed or traveled recently (let us know so we can give your spot to someone else). Adults and children over the age of 2 are expected to wear face coverings the entire time (soft singing is recommended). Hand sanitizer will be available. Please no eating or drinking inside the building. Please plan to use the restrooms prior to being seated to keep traffic one direction.
Seating: Please stay with your family/pod and social distance staying 6 feet from the groups next to you. Please wait to be dismissed and proceed out of the building immediately to make room for the next service and for sanitization of the sanctuary to be completed.