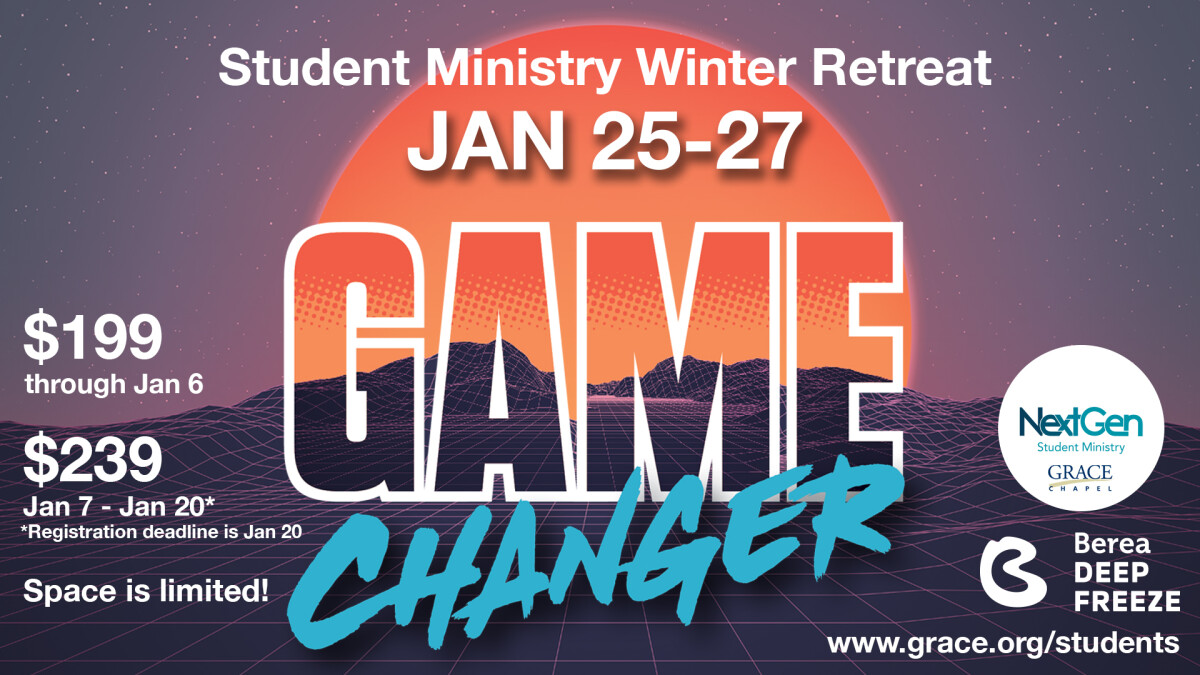 Student Ministry Winter Retreat: Deep Freeze 2019
Friday, January 25, 2019, 5:00 PM - Sunday, January 27, 2019, 4:00 PM
We live in an era of unparalleled connectivity and relentless innovation. The lines between reality and the digital world are being blurred. The rules to the game are constantly changing.
And yet there is a timeless path, a historic quest that will take us beyond chasing empty pixels and superficial affirmations. There is a generation who refuses to play by the world's broken playbook. They press on to a new dimension marked by authentic love and God-given purpose. They reset the score and embrace unlimited life in their Creator.
Who will rise to the challenge of this heroic adventure? Will you just play the game or will you be a Game Changer?
---
Who: all 6th through 12th graders
What: Student Ministry winter retreat
Where: Camp Berea (drop off and pick up at Grace Chapel Lexington)
When: Jan 25-27
Why: to have fun, learn about God, and belong with friends new and old
*all participants must also register with Camp Berea
HERE
.
If you or someone you know is interested in sending your teenager to Deep Freeze but that the registration cost is preventative, we have scholarship opportunities available. Please email Student Ministry for a scholarship application no later than January 6th. Scholarships will not be available after this date.

Check-in Friday January 25

59 Worthen Rd, Lexington, MA
Check-in Time: 5:00PM- 5:45PM
***Buses Depart at 6:00PM***



Deep Freeze Packing List