FX Family Experience
Building a Spiritual Foundation, Together
Parents, you're all familiar with the daily grind: up early, get ready, eat breakfast, dress the kids, pack the bags for school and work, walk the dogs and leave for the day. Go to school or work or begin the daily tasks at home. Come back together at night – dinner, bedtime routine, start prepping for the next day.
The daily grind is hard. In the middle of all of that running you try to find time to talk to your kids, to your spouse, even to yourself. Where's the time to talk about substantial things – like church, God, and how the Bible helps us in our daily lives? We all want a strong spiritual foundation for our kids, but finding time to build it isn't easy.
What if the church gave you that time, created that space for your family, and it wasn't on Sunday morning? That's Family Experience.
What's Family Experience?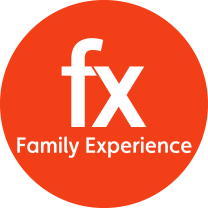 On the second Friday of every month, Family Experience is a place where your family can worship, learn, talk, and experience God together. We'll take our monthly Bible verse, our monthly theme, and our large group fun from Kidstown and transform it into something the whole family can enjoy. We'll give your family valuable time to circle up and talk about how that verse, that theme, that Bible story relates to your lives and how each of you can live out those God given truths every day.
Here at Grace Chapel we strongly believe that nothing is more important than someone's relationship with God, but we also know that no one has more potential to influence a child's relationship with God than a parent. How influential would it be to worship side by side with your child? How meaningful would it be to talk about the Bible stories with your child? How valuable would it be to experience church/God/life as a family?
It's family…together. It's Family Experience.
Starting again Fall 2018