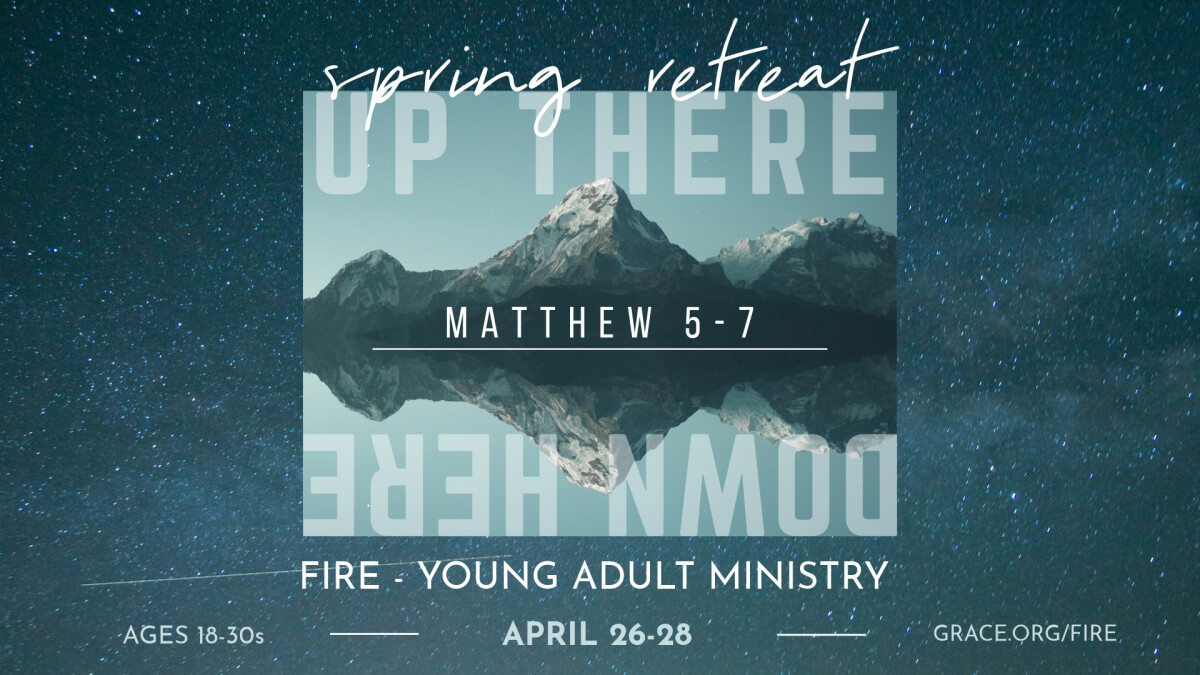 Fire Spring Retreat
Friday, April 26, 2019, 7:00 PM - Sunday, April 28, 2019, 2:00 PM
Up There, Down Here – Matthew 5-7
"The Sermon on the Mount is not a set of principles to be obeyed apart from identification with Jesus Christ. The Sermon on the Mount is a statement of the life we will live when the Holy Spirit is getting his way with us." -Oswald Chambers
We live in a culture that often thinks of heaven as far away and up there. Heaven is seen as a distant place we hope to go to one day, but it doesn't have much to do with who we are down here. But followers of Jesus are called to live in a world where heaven and earth have already come together through Jesus Christ.
In the greatest sermon ever preached, the Sermon on the Mount, Jesus teaches his followers what life looks like when heaven and earth come together, when up there comes down here. There is a reason Jesus taught us to pray, "Your kingdom come, Your will be done, on earth as it is in heaven." This weekend let's dive into the best known, but least understood part of the teachings of Jesus as we explore what up there, down here looks like in our daily lives.
Tom Haugen, Guest Speaker
Tom Haugen is the Chaplain of Gordon College, an honor he has enjoyed since November of 2013. He is a graduate of The University of Georgia (B.A.), Gordon-Conwell Theological Seminary (M.Div.), and The University of Edinburgh (Th.M.) and is completing a Ph.D. in Homiletics at The London School of Theology and Gordon-Conwell Theological Seminary. Tom has served the Lord at churches in Zurich, Switzerland, Atlanta, Georgia and Boston's North Shore. He and his wife have three beautiful daughters.
"It is my hope to help students discover for themselves God's purpose for their lives as they navigate the joys and challenges of the college journey. I get excited thinking about the impact 1600 students could have in New England and to the ends of the earth when they embrace God's love and forgiveness, grow in wisdom and Christ-likeness, commit to lives of service, and in all things give God the honor and glory He deserves. I look forward to building life-changing relationships with the students of Gordon College as we worship Christ together in community."
Look forward to...
Relevant messages
Worship with Mike Powell
Personal reflection and time with the Lord
Super fun activities
Beautiful scenery
Free time to relax and retreat
Good food
Building awesome friendships and shared experiences that we'll never forget
What to bring: Bible, notebook, sleeping bag or fitted sheet, pillow, toiletries, towel, shower shoes, warm comfortable clothes, hiking shoes, sneakers, coat and rain gear.
Cost:
Through March 31: $125
April 1 - April 12: $150
After April 12: REGISTRATION CLOSED
Scholarships: We offer partial scholarships for those in need. To apply, please fill out the application form at the bottom of this page.
Questions? If you have questions or suggestions regarding the retreat, please e-mail Kristen Getchell at .
Directions to Camp Berea
I-93 North to exit 23.
Turn left onto Route 104 West for 5.5 miles to the traffic lights.
Go through lights following Route 3A North for 2 miles.
At blinking light, turn left onto West Shore Road for 1.9 miles.
Turn right to continue on West Shore Road for 3.8 miles.
Turn right onto Berea Road for .5 mile, and you are there!
If you are using a GPS:
43.673630 by -71.793700
or 43 40 17.84 N by 71 47 21.47 W