The Marriage Course - LEX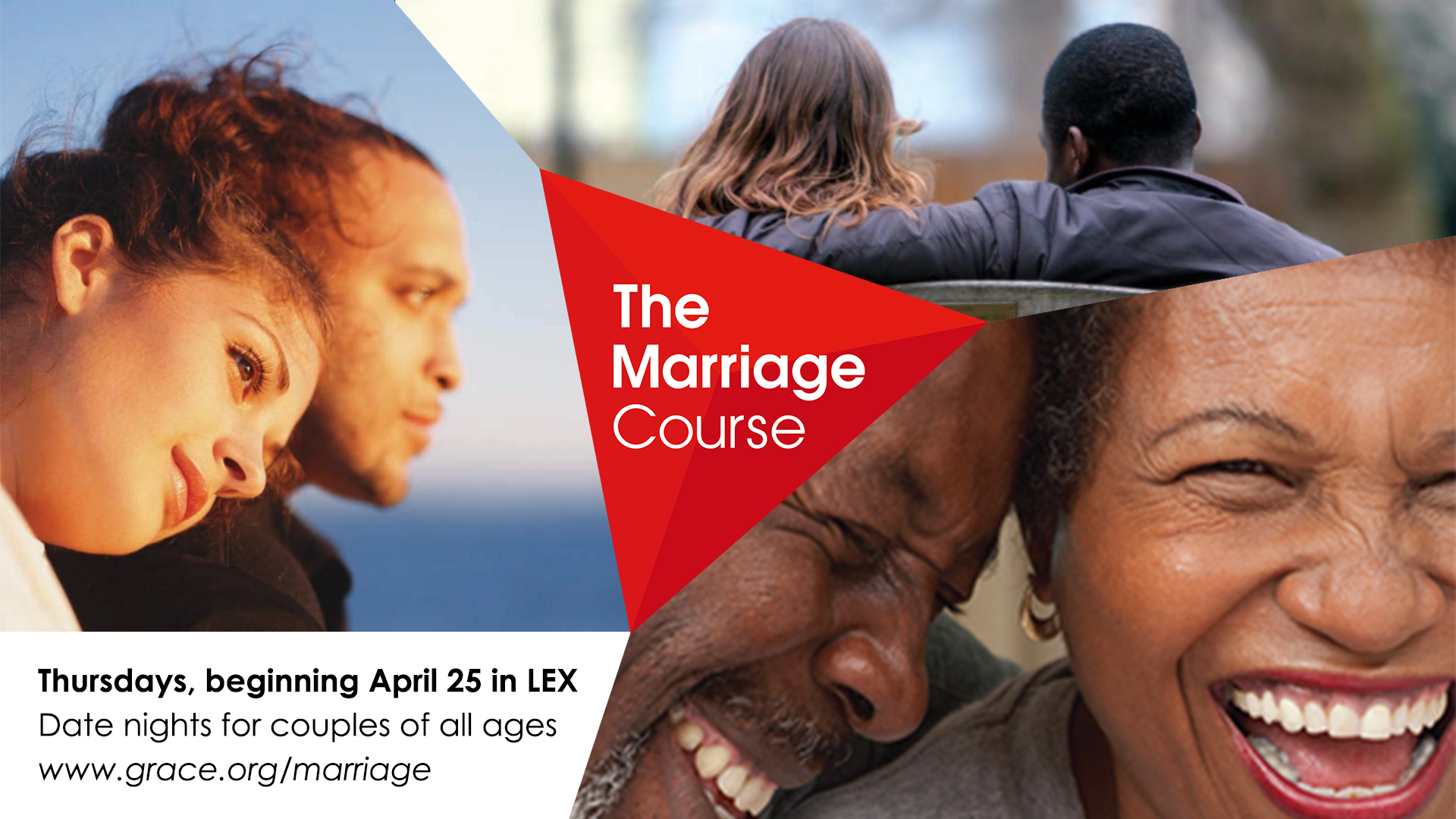 The Marriage Course: 7 Date Nights with Purpose
The Marriage Course is designed to help you invest in your relationship and build a strong marriage. Couples of all ages, stages, and situations enjoy a romantic atmosphere and the privacy of discussing the course material only with one another. Themes explored include building strong foundations, communication, conflict, forgiveness, the impact of family, good sex, and love in action. This course is a transformative experience for any couple ready to strengthen their relationship and enjoy life together.
You will be served a simple dessert, coffee, and tea at a candlelit table. Our evenings include informative, fun video sessions and time for you to catch up with your spouse one-on-one.
Cost per couple: $50
CHILDCARE HAS REACHED CAPACITY
Add childcare: $60 for one child; $80 family maximum (ages 11 and under)
SIGN UP for The Marriage Course
Questions? Contact Maria Kakolowski at mkakolowski@grace.org.

What do couples who took the course have to say about it?
"Even though we were surrounded by other couples, each evening felt intimate."

"I enjoyed pausing throughout the course to have relevant conversation with my spouse. It got us talking about topics that aren't problems in our relationship; therefore, we haven't given much time to. As it turned out, we had so much to say about even those topics. The course gave us a chance to discover new ways of strengthening our relationship beyond our expectation."

"It's very worthwhile and do-able, even when you have young kids. Finding sitters is worth it."

"Each week's lessons opened up topics of conversations that we otherwise would not have thought to discuss."

"Honestly, we really looked forward to the class every week. We always walked out feeling like it supercharged our relationship and gave us a little jolt of energy with the tips and tricks offered. I was not expecting to get SO much out of this course but it's made us closer and really highlighted positive ways to appreciate one another."

"The sessions are very honest, realistic, and relevant. They give us specific tools in dealing with specific issues without letting trivial problems get in the way of the big picture."

"We cherished this uninterrupted time to spend together."

"Do it for your kids if not for yourself; this was the single best thing we've ever done for our kids."

"We loved that the course didn't seem to have the intent of getting you to a content place; it helps you reach an emotionally connected place of happiness with each other."

"If you are at all on the fence about the investment of time or money for the course, it is worth every minute to attend."