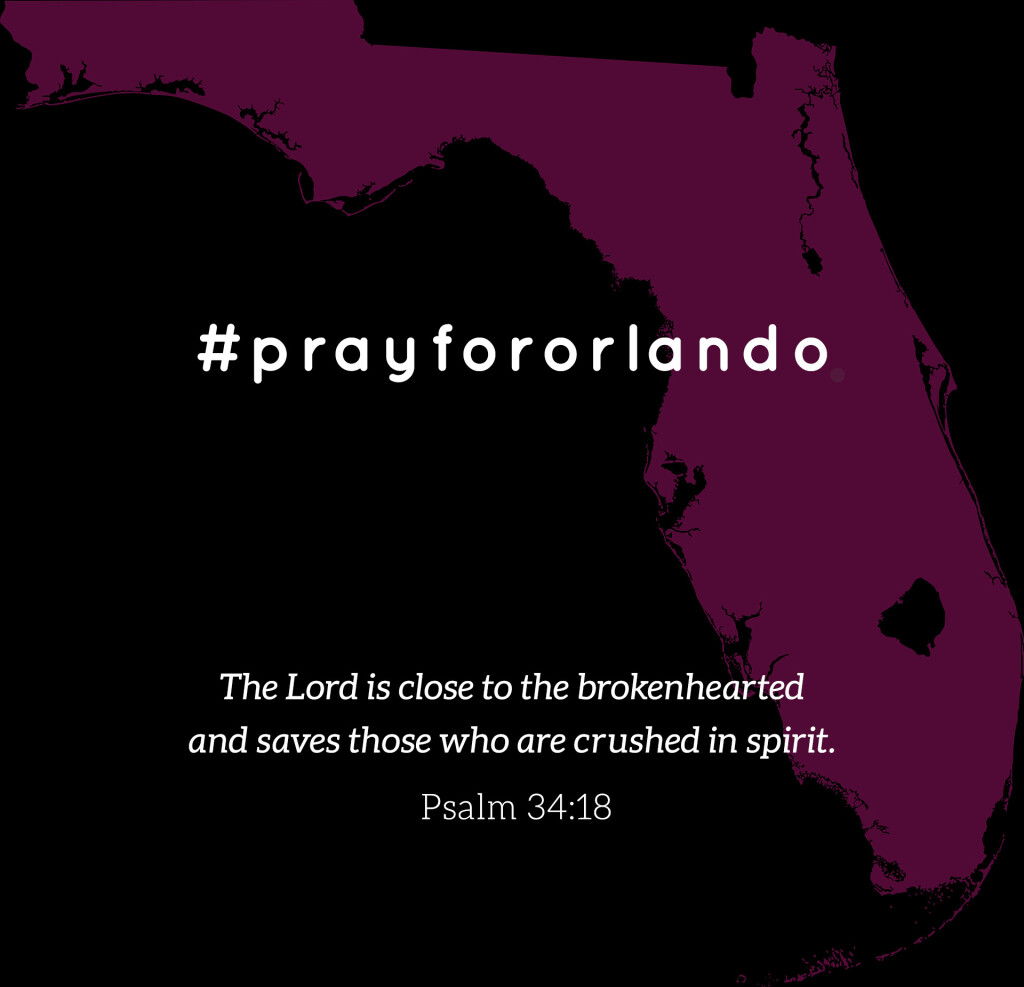 My husband gets the news alerts on his iPhone, so when breaking news hits, he's usually the first one to let me know.
"There was an attack on a nightclub in Paris."
"There was an attack in an airport in Brussels."
"There's a shooting going on in San Bernardino."
And this past Sunday morning, we woke again to devastating news: "There was a shooting in a nightclub in Orlando last night. They're not sure what happened. Twenty dead, more wounded. They think it was terrorism. They're not sure."
We know more now, but the more we've learned the more terrible the news grows. Forty-nine innocent victims, even more wounded, and many facing life-long medical battles. Families mourning, worried, and anxious. First responders who put themselves in harm's way are left traumatized. An entire community has had to face the reality: It happened here. And the rest of us are left feeling, again, it could have happened here.
And more specifically, we know that this attack targeted an LGBT gathering place, and there are LGBT individuals, families, and communities who are reeling. Pulse has been known as a place where people who felt like they didn't belong could find belonging. It was a place named in honor of the founder's brother, who died from AIDS, to keep his memory alive: pulse.
We feel the weight of their grief, and we pray for them along with the many others who are struggling in these days after such a terrible act of violence. We pray for the victims and their loved ones, who need comfort in the midst of unspeakable sadness. We pray for the community and the neighbors and schoolkids and the police and doctors. We're thankful for the police and medical personnel who responded to the call of an active shooter with skill and without hesitation. Seeing the images of everyday people who ran to the scene to offer whatever help they could, from a comforting hug to their own blood, makes us resolve to do the same if the need ever arises.
Still we are left wondering, what now? Where is God in all of this, and how do we respond? Our teaching series on Sunday mornings this year has been all about Jesus, and our question at the end of this series has been: where is Jesus now? We've been exploring the notion that Jesus is here, right now. He is present in our sorrow and in our fear and in our questions. The book of Revelation, the mysterious book at the very end of the Bible, uses a strange picture to describe him, calling Jesus both lion and lamb. He is the lion whose strength brings justice on earth, putting things right. Yet he is also the lamb, who in the face of violence responds so differently than our instinct would tell us to. He lays down his life, showing us the way of love and mercy and grace.
The coming weeks will bring more information, even as life goes on and our news feeds shift away from this coverage to new headlines. We want to do something, but what? The words may seem trite, but they are powerful: in this moment, we love, unconditionally. We sit with our friends in the pain and grief they are experiencing. We choose a posture of listening as we encounter people who may have different experiences than us. And above all, I think our beliefs, the picture we have of Jesus as the Lamb, call us to stand with the LGBT community against hatred and persecution and rejecting violence against any community. We choose the way of the Lamb.
We reach out to our LGBT friends and neighbors. We stand with those who have suffered loss and trauma. We listen.
And we pray.