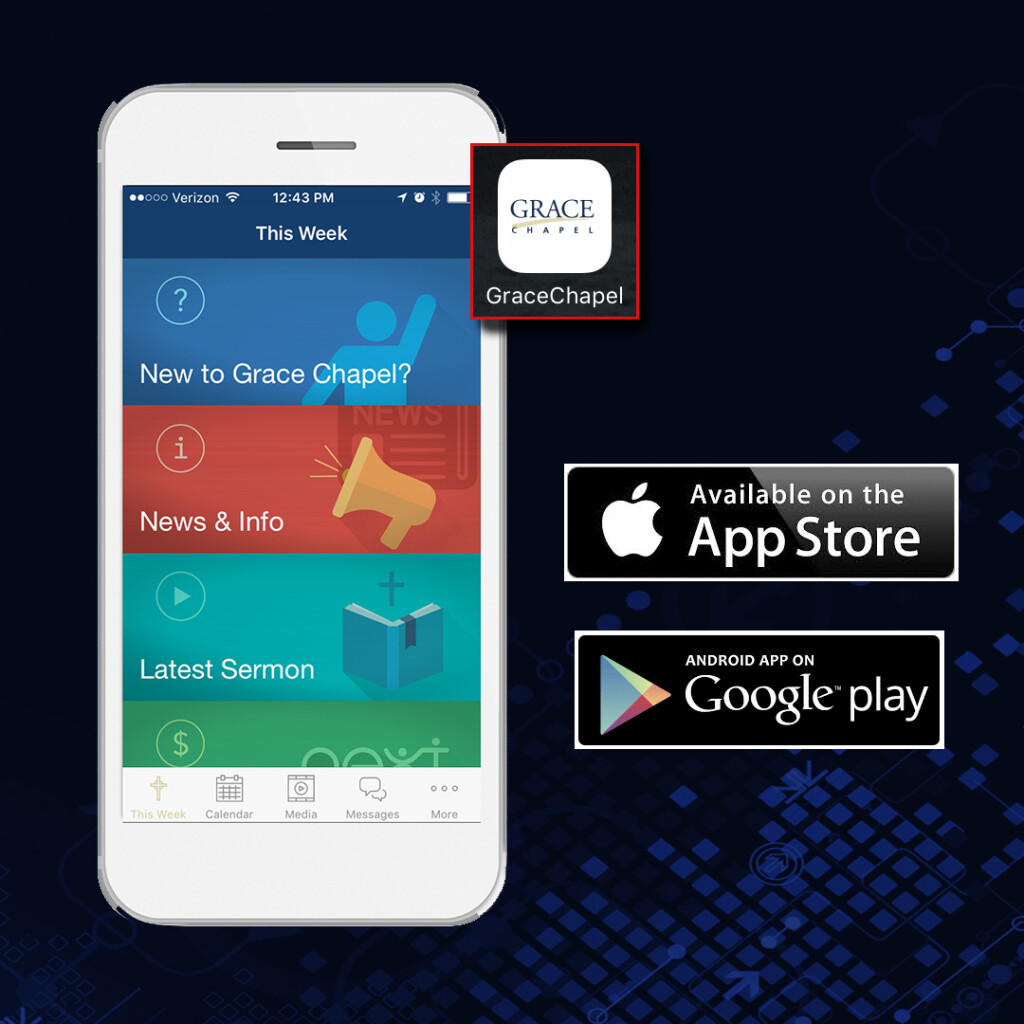 If you're one of the 2500 people who've downloaded our app, Grace Chapel Connect, we'd like to say thank you! You're making it easier to stay informed, by putting all the things we communicate each week right in your pocket.
Announcements in the service? All there. Items in our bulletin, Inside Grace? All there. E-News items? All there too.
But that's just part of what makes our app worth getting. Here are some other reasons to open it up and check it out:
Music! Our contemporary worship music set list is accessible through the app. It's a Spotify playlist you can play through the Spotify app if you have it, or you can play it through our app if you don't. It's under the Media tab.
Our blog. There have been lots of great posts on our blog lately; have you read Pastor Bryan's and Pastor Dana's? Don't hunt around for new posts, just open the app and you can find them listed under Media.
Useful information about special events and activities. If you're relying on announcements during the worship service or our bulletin to keep up with everything happening at Grace, you're only getting part of the story. The app features everything that's coming up or currently happening. It's summer right now, so things are a little lighter, but come September you'll find all kinds of info under the News & Info section on the home screen.
Helpful details for new people. New to Grace? Fill out a Connection card, get worship service times and descriptions, WiFi info, Kidstown info, and much more all through our app. Just click the big blue"New to Grace Chapel?" section on the home screen. If you've invited a friend, tell them to download the app too!
The give-with-a-text #. Giving with a text message is easy; we make it even easier. Just click the "Give" item on the home screen (it's green) and all the info is right there.
Our calendar. Our website's events calendar syncs with the app calendar. We're working on better formatting, but the info is all there. Click on the location button and get directions for offsite events, even add events to the calendar on their phone.
Devotional resources. If you read Encounter With God, My Utmost for His Highest, or She Reads Truth, they are all in our app under the More… menu.
Worship Services Live Stream. Want to watch our live stream on Sunday? Open it in YouTube or the website with just one tap from the Media section.
Social media. We're on Facebook, Twitter, and Instagram (and Google+, even though you probably aren't). Click the Social Media item under Media.
Staff directory. Looking to email or call one of our staff? Use the directory under the More... menu.
So when you're in church on Sunday, take a moment to see what's new in our app. And if you miss a Sunday (we know, it happens), keep up through our app. As our own Pastor Dave might say, it'll make you… happy.
We're always improving our app's content and features, so if you have ideas for making it better, we'd love to hear them! Email with your suggestions.