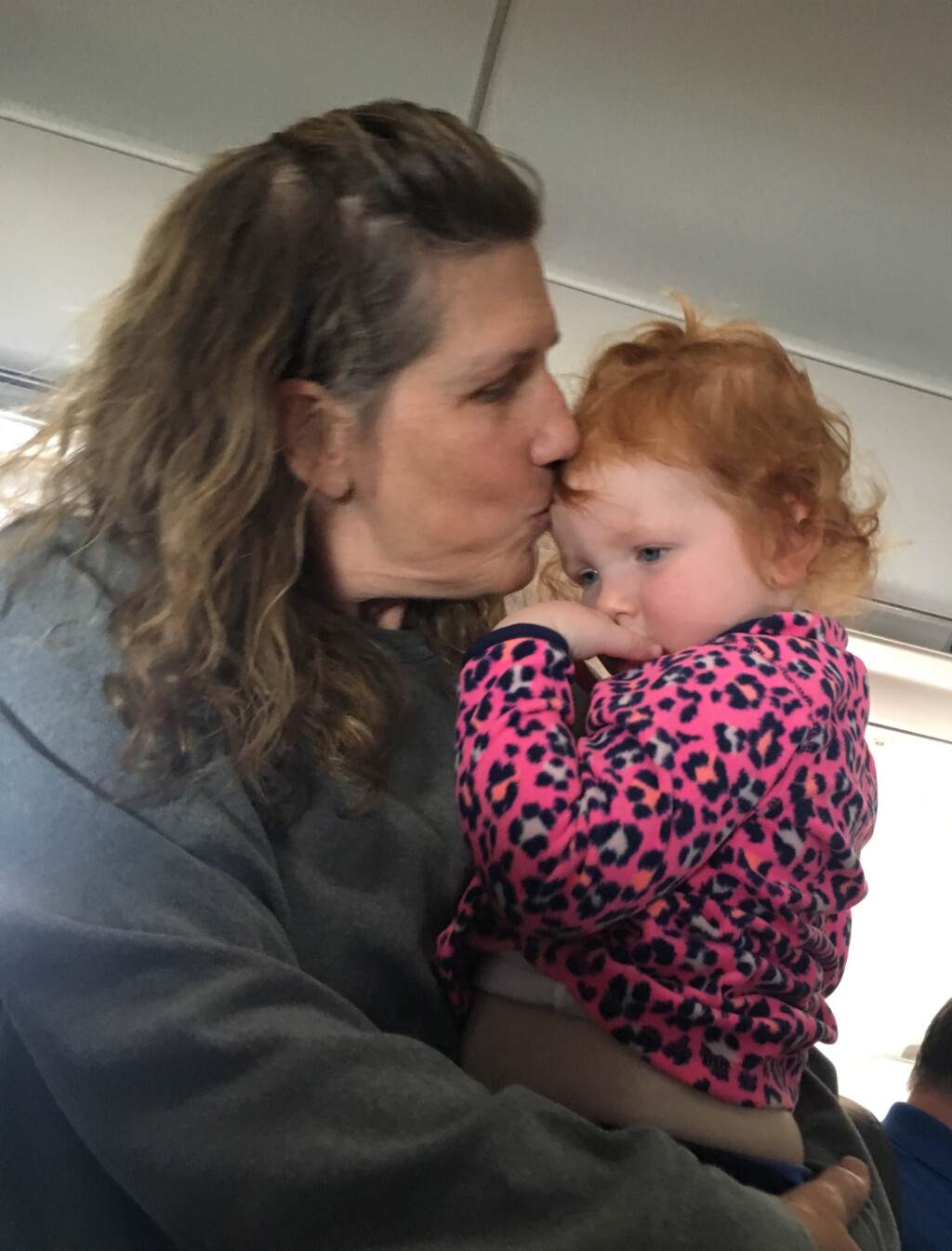 Evie's mom writes,
"We were at Logan Wednesday morning, playing in their Kidport with my daughter Evie and her younger sister Maggie before our flight. Suddenly, my husband Joe got up and ran to the door. "That's Patti!"
Evie came running and saw her Sunday morning small group leader, heading down the hall. As soon as Patti heard Evie, she turned around, and then there was a running embrace in the middle of our terminal. We had a layover in Chicago, and it turned out Patti was on our flight.
"Traveling with little ones is hard – for us, and them. Seeing someone who is so meaningful to her in such an unfamiliar space was a real traveling mercy! Patti was flying out to care for her sick mom, so I like to think that seeing Evie was a comfort to Patti as well. It was a beautiful moment that fully demonstrates the value and power of our wonderful small group leaders in Kidstown."
And Miss Patti says,
"I was so thrilled to see Evie and her family. It made my day. Seeing her made a difficult situation brighter."
Miss Patti has given this family, and many others, the Gift of Presence. She has invested her time to be a faith parent. And just look at the return on her investment! As you think about your year-end giving, and planning for the New Year, have you considered the "return on investment" (ROI) you can receive when you give the gift of presence as a faith parent?
If you were a small group leader at a table of elementary children you would hear stories like the one we recently heard from 5-year-old Lauren, who was deeply moved by the presentation in Kidstown by the Vitrano-Wilsons (Grace Chapel mission partners) during Global Awareness Week. Mom Becky reported that during Lauren's bedtime prayers she said she wanted to pray for "all the people who have Bibles with blank pages." She prayed, "Please fill them with words so they can understand about Jesus."
If you were serving in Early Childhood you might see re-enactments of our worship leaders playing guitar, or a budding preacher who put his toy walkie-talkie on his belt (like a microphone pack) so he could pretend to be Pastor Bryan preaching on Child Dedication Sunday.
If you served in Kidstown, you might meet little Annalise who told her mom all about the reasons to be thankful, "Even when you lose something, or even when you are mad, you can still be thankful!"
Our children are not the church of the future - just as our older members are not the church of yesterday. We are all the church of today.
Children's ministry is a high priority, with the window of greatest receptivity to the gospel between the ages of 4 and 14. We need adults who take seriously their vow to be faith parents to the children of the congregation. Adults who want to be a part moments like these!
Give the gift of presence in 2018. The ROI is worth every hour, every Sunday, every lesson. And it comes in the form of a hug, a smile, a child catching the truth of what you are learning together, a little boy who wants to pretend he is a pastor, a little girl who wants to be a missionary when she grows up.
Our children are waiting for the Lord to write on the pages of their hearts – and, as Mother Theresa once said, you can be "the pencil in the hand of God!" There is no greater return on an investment than a heart that has turned to Jesus. Say "YES" to an ROI that is out of this world!
Visit our Kidstown ministry webpage for more information on how you can be a part of a child's story!